Lectures / Visiting Artists / Other Educational Programs
Artist-in-Residence Rich Fedorchak
July 15 - 28, 2019
This July, the Frederic Remington Art Museum will host Rich Fedorchak as its artist-in-residence. Fedorchak will be in residence at the Museum between July 15 and July 28, when the public will have a number of opportunities to interact with the artist, in a wide variety of ways.
Throughout his residency, Fedorchak's artwork will be on display in the Museum's Hirschey Family Gallery. Fedorchak will be working in the same gallery, and visitors are encouraged to drop in to talk with Fedorchak about his work and artistic process. More formally, there will be a screening of Fedorchak's short, experimental films followed by an artist's talk on Tuesday, July 16 at 7:00 pm. Local experimental musicians "Claude and Ola" will create live, improvised accompaniment to the final film shown. The screening and talk are free and open to the public and will be held in the Museum's Tiffany Room.
Inspired by the tradition of Ogdensburg's Seaway Festival buttons, Fedorchak will offer an Art Collage Button Workshop on Friday, July 19 from 10:00 am to noon. Cost for the class is $15 for Museum members and $25 for nonmembers. Space is limited and registration is required. For more information and to register, call 315-393-2425 or visit fredericremington.org
As part of his collaboration with the Remington Museum, Fedorchak will curate an exhibition of select Remington works, which will open on Thursday, July 25 with a public talk by the curator at 4:30 pm in the Museum's Addie P. Newell Gallery.
Fedorchak also served as juror for the Museum's Annual Members' Juried Art Exhibit, which opened in May and which will remain on view through September 15.
After a 35 year career as a registered nurse working primarily in pediatric critical care and pediatric hematology/oncology, Rich Fedorchak is now retired and devoting most of his time to his artistic pursuits, in which he has been active since the mid-70's. Rich produces work in collage, assemblage, and experimental cinema. His films have been screened at numerous juried festivals in the US and Canada including The 8Fest, the Winnipeg Underground Film Festival, the Montreal Underground Film Festival, and the Haverhill Experimental Film Festival. Recently he had a solo exhibit of his work at AVA Gallery and Art Center in Lebanon, NH. Rich has been a guest lecturer and presenter in the film and media department at Dartmouth College.
---
Lecture on Remington Studio Collection
Monday, August 5, 7:00 pm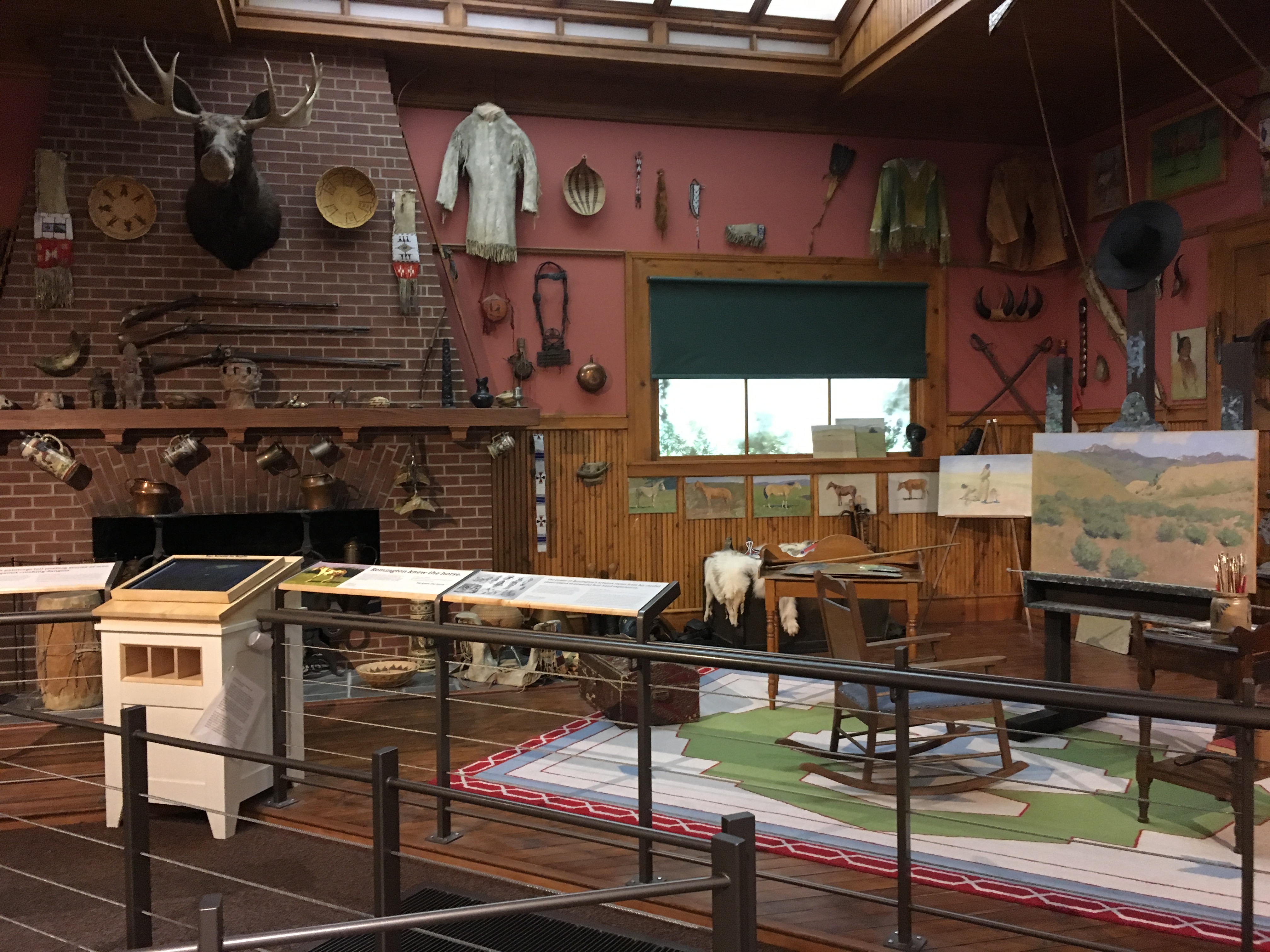 Curator Karen B. McWhorter of the Buffalo Bill Center of the West in Cody, Wyoming, will present a talk about the reconstructed studio of artist Frederic Remington. The presentation, entitled, "Frederic Remington's Studio Collection:
Something of a Museum of the Old West
," will take place on Monday, August 5 at 7:00 pm at the Frederic Remington Art Museum in Ogdensburg. The talk is free and open to the public; a reception will follow the presentation.
Today, visitors to the Buffalo Bill Center of the West delight in the Remington Studio Collection, a permanent installation featuring artifacts that Frederic Remington displayed in his studio in New Rochelle, New York and later in Ridgefield, Connecticut, as well as some of the paintings he made late in his career. McWhorter will trace the journey of this studio collection from Ridgefield to Ogdensburg to Cody, and offer insights about the motives, principles, and interests that shaped this history.
Laura Foster, Director at the Frederic Remington Art Museum, notes: "The Studio Collection is so important in its representation of Remington's art making habits and environment, and those
wonderful late paintings tell the tale of his artistic achievements and ambitions. The Collection, and its loss from the Remington Art Memorial (now Museum), are a pivotal part of our own story as we approach our 100th anniversary. We are grateful that the Buffalo Bill Center of the West has not only taken excellent care of the Collection, but they have studied it and shared it with the public in meaningful ways. It couldn't have found a better home."
The speak
er, Karen B. McWhorter, is Scarlett Curator of Western American Art at the Bu
f
f
alo Bill Center of the West. She oversees the Whitney Western Art Museum and develops installations, interpretation, and programming. Since 2015, McWhorter has directed seven traveling exhibitions including
Albert Bierstadt: Witness to a Changing West
(2018). She has coordinated four all-day symposia, has contr
ibuted to six university press catalogues, and lectures widely. She has served as a consultant, art show juror, and grant reviewer. McWhorter's areas of expertise include nineteenth century artist-explorers, American landscape painters, the Taos Society of Artists, and contemporary western American artists. McWhorter holds an MA in Art History from University of Colorado, Boulder.
Part 1 of lecture. Powerpoint Presentation

Part 2
Art Highlights and Tea Series
The Art Highlights and Tea Series began roughly 16 years ago as a volunteer-led educational program. The "art highlights" talks by a great variety of volunteer presenters draw interested audiences every year. The program routinely includes four monthly lectures in January, February, March and April on the second Wednesday of each month. Lectures begin at 2pm and are always free and open to the public. Tea is served at 3pm. The cost to participate in the tea is $10/person if you're a Museum member, or $15 if not. We offer a discounted rate if you purchase your tickets in advance for all teas in the series- $35 for members and $40 for non-members. To reserve your seat online visit:
https://shop.fredericremington.org/collections/events/products/art-highlights-tea-series-1
January 9, 2019: Bob Thacker, "Meeting The Cowboy, Seeing The Outlier." Thacker will explore some Remington works dating from the last part of the artist's career. Bob taught at St. Lawrence University for thirty-five years. He is the author of The Great Prairie Fact and Literary Imagination, has been President and Executive Secretary of the Western Literature Association, and has a particular interest in comparing the Canadian West with that of the U.S.
February 13, 2019: Maria Pedroso-Parker, "A Cuban Woman's View on Frederic Remington and the Spanish American War." Pedroso-Parker will offer Cuban perspectives on the Spanish-American War and her own reflections on Remington's representations of that war. She will also introduce audiences to José Martí, Cuban poet, writer and freedom fighter who was responsible for igniting the Spanish American War from the Cuban side.
March 13, 2019: Lowell McAllister, "Shoeing Cossack Horses and How It Came to Us." Lowell McAllister was Executive Director of the Frederic Remington Art Museum from 1985 to 2005. A number of important works by Frederic Remington—including Shoeing Cossack Horses—were added to the Museum's permanent collection during his tenure as Executive Director. McAllister's presentation will relate the interesting and unusual circumstances that brought Shoeing Cossack Horses to the Museum.
April 10, 2019: The series concludes with a special presentation of the Museum's One Hour One Work program. Museum Education Specialist Laura Desmond will introduce the One Hour One Work program, and then facilitate a conversation about Frederic Remington's 1899 oil painting, Captured, which is on loan to the Remington Museum from the Sid Richardson Museum in Fort Worth, TX.
January 10, 2018: James D. Carl, "David Parish's European Architect, Joseph Ramée, and an Early North Country Building Effort." Dr. Carl will speak about French architect and landscape designer Joseph Ramée and his work in the North Country in the early 1800s. Ramée was brought to America in 1812 by David Parish of Ogdensburg to participate in Parish's land development efforts in the area. Tea hosted by Ann Groome and friends.
February 14, 2018
: Caroline Downing, "The Adirondacks and American Art." Many artists have been inspired by the Adirondack region of New York State, including Thomas Cole, Winslow Homer, Georgia O'Keeffe, Frederic Remington, and numerous contemporary artists. Downing will look at the work of a number of these artists, studying their individual responses to the landscape, and noting, in many cases, their strong concern for protecting the distinctive environment of what is known today as the Adirondack Park. Tea hosted by Ann Spies, Fran Naccarato, and friends.
Watch video
.
March 14, 2018: The life and work of early 20th century Ogdensburg sculptor Sally James Farnham, as interpreted by Carole Berard. Tea hosted by Ann Groome, Nancy Skiff, and friends.
April 11, 2018: Sean O'Brien, "Irish Settlement Roads: Nineteenth-Century Stories of Migration to the North Country." Tea hosted by Luann Herzog, Kathie Wade, and friends. Watch video.
May 9, 2018: Morristown Areal Book Club panel presentation, "The Homesteaders." Tea hosted by Doris Whitehead and friends. Watch video
Flickr link to Mary Sprague as she works in the Albert Priest Newell Gallery: http://flic.kr/s/aHsjvoSNTt