Lectures / Visiting Artists
Presentation on Buffalo Soldiers in the Frontier Army
7pm
Frederic Remington, The Alert (1888), oil on canvas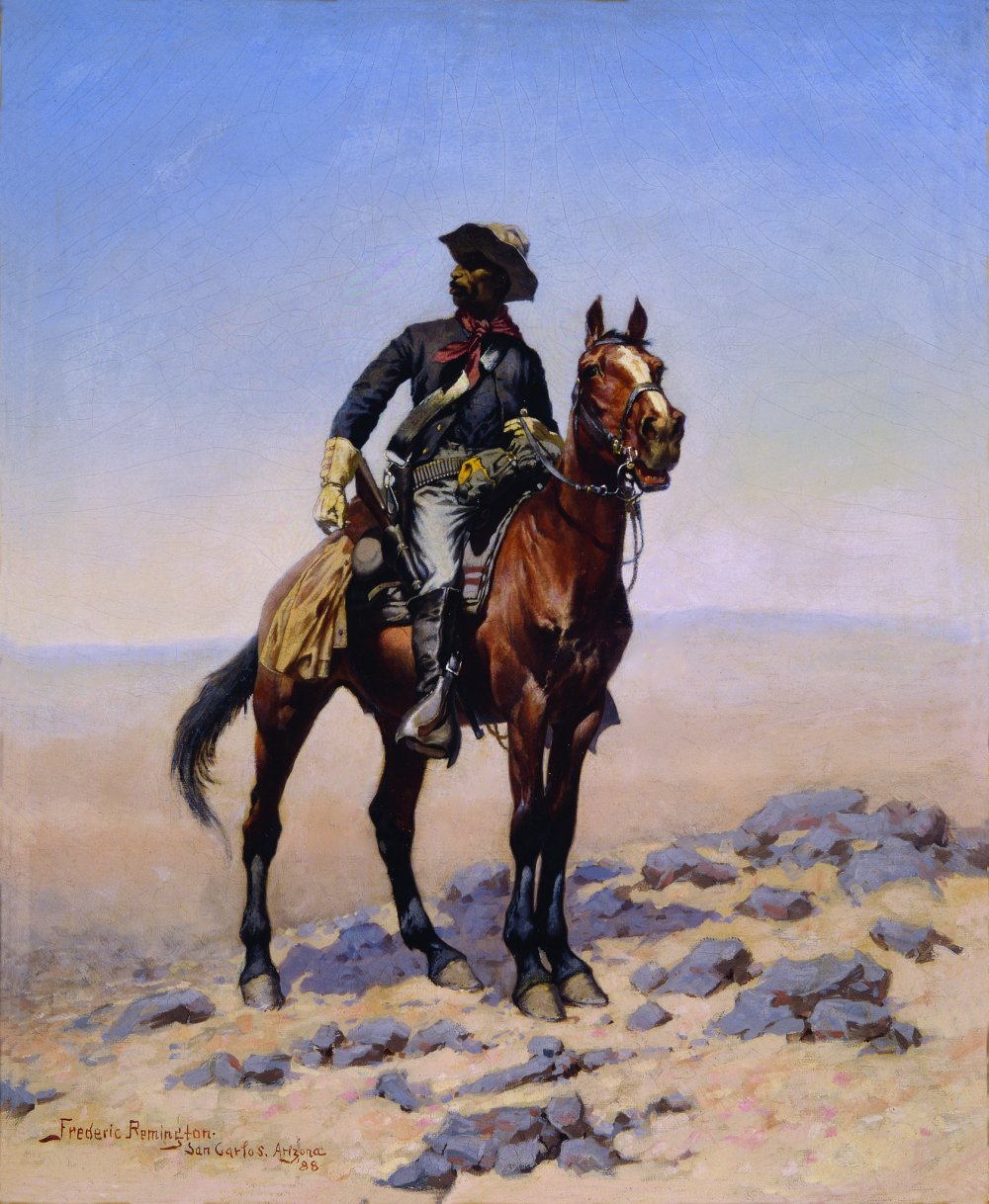 Historian John Langellier will give a presentation of his newest book, Fighting for Uncle Sam: Buffalo Soldiers in the Frontier Army, which examines the history and experiences of the black soldiers who served in the U.S. West in the 19th and early 20th centuries. The presentation will take place on Tuesday, September 26 at 7pm at the Frederic Remington Art Museum; it is free and open to the public. A reception and book signing will follow the presentation; copies of Langellier's book will be available for purchase at the event.
On July 28, 1866 the U.S. Congress voted on the Army Reorganization Act which created six regiments manned by blacks, many of whom had bought their freedom with blood while serving in the Union forces. In time these men came to be known as "buffalo soldiers," and for the next eight decades often were posted in the American Southwest. There the segregated units faced many formidable foes while simultaneously battling racism. Despite prejudice these troops developed a reputation as topnotch professionals and in many cases served as a vanguard along the frequently troubled, dangerous border between Mexico and the United States.

Frederic Remington was one of few artists of his day to represent the presence of black soldiers in the frontier army. Although Remington's racial attitudes could not be described as progressive, he developed respect for the black soldiers with whom he spent time, and he gave them a visible—sometimes prominent—place in his paintings, drawings, and writings. During his visit to the Remington Museum, Dr. Langellier will be conducting research for his next book, Yankee Artist and Confederate Cavalier: Frederic Remington, Powhatan Clarke, and the Buffalo Soldiers.
Art Highlights and Tea Series
The Art Highlights and Tea Series began roughly 16 years ago as a volunteer-led education program. The "art highlights" talks by a great variety of volunteer presenters draw interested audiences every year. the program routinely includes four monthly lectures in January, February, March and April on the second Wednesday of each month. Lectures begin at 2pm and are always free and open to the public. Tea is served at 3pm. The cost to participate in the tea is $10/person if you're a Museum member, or $15 if not. We offer a discounted rate if you purchase your tickets in advance for all teas in the series- $35 for members and $40 for non-members.
Flickr link to Mary Sprague as she works in the Albert Priest Newell Gallery: http://flic.kr/s/aHsjvoSNTt