Centennial Celebration for the Frederic Remington Art Museum's 100th Year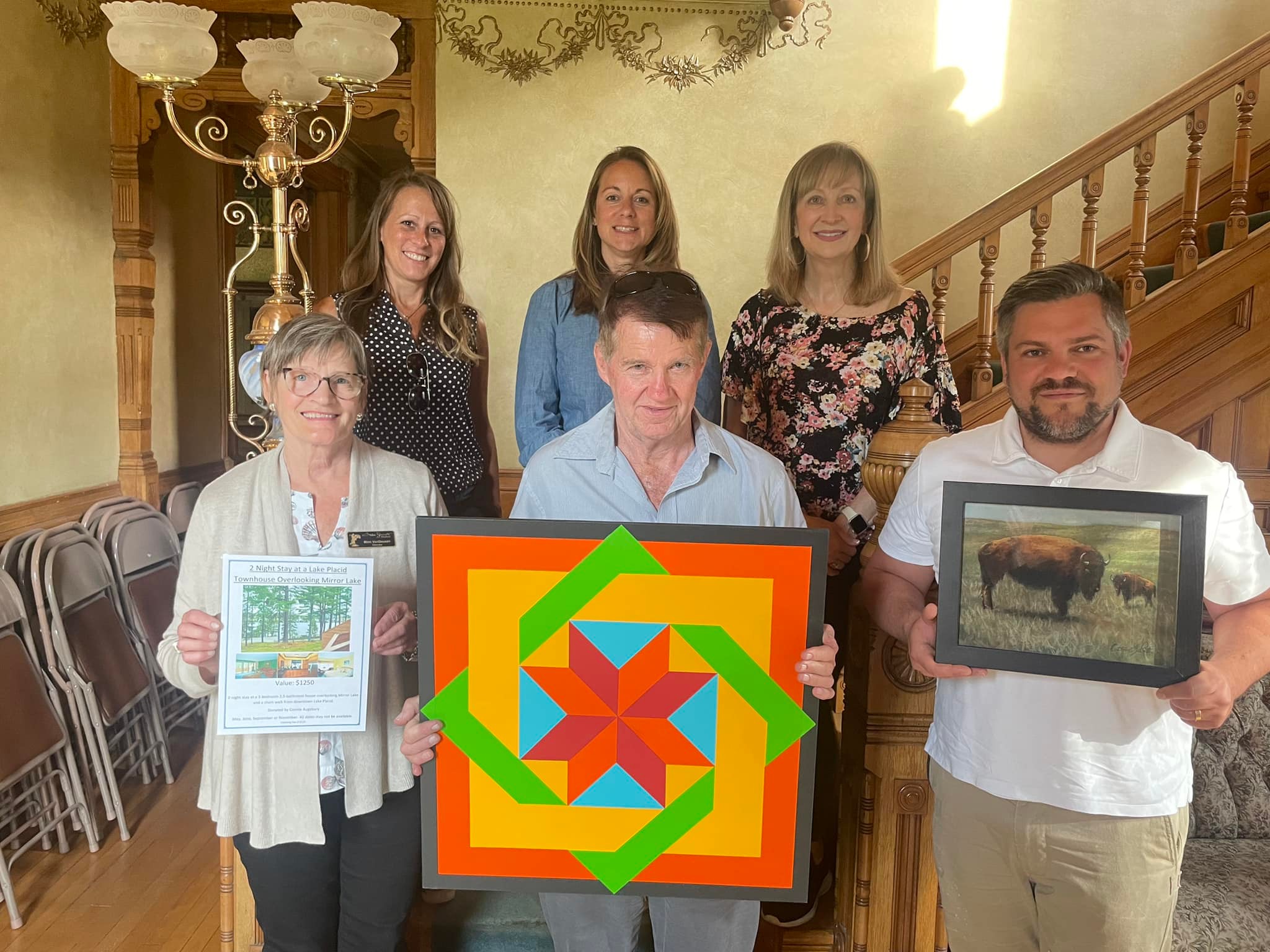 Pictured: Centennial Celebration Committee members are pictured with a few of the event's silent auction items. Back row: Melissa Sutherland Amy Wright, Dr. Patricia Mahoney. Front row: Mimi VanDeusen, Interim Executive Director holding a 2-night weekend stay in a 3-bedroom 2-bathroom condo in Lake Placid overlooking Mirror Lake donated by Connie Augsbury; Rich Bzura holding Brilliant Flames, a barn quilt donated by the Barn Chix; and Jeffrey Spriggs with a framed pastel painting titled Badlands Buffalo donated by Catherine LaPointe-Vollmer.
Centennial Celebration for the Frederic Remington Art Museum's 100th Year
The Frederic Remington Art Museum will kick off its 100th Anniversary with a Centennial Celebration on Friday, July 14, 2023, from 7 to 11pm. The party will celebrate the opening, one hundred years ago, of the Remington Art Memorial, now the Frederic Remington Art Museum. The Centennial Celebration is sponsored by Pepsi Cola Ogdensburg Bottlers. The public is invited to show its support for the Museum and enjoy a fun-filled evening of fantastic fare, fundraising, and entertainment.
This very special event includes music by Fulton Road Band and Brad Byrd. Hors d'oeuvres by Sandwich Warehouse will be included and there will be a cash bar provided by Hosmer's Marina. Portraits will be available by Wendy June Photography. A silent auction will feature numerous unique items, many by local artists and vendors.
All are invited to attend this major fundraising party celebrating the Museum's 100th birthday. The cost is $60 per person. Guests can pay online, in person, or by calling the Museum at (315) 393-2425. If you're unable to attend, please consider making a donation, which will raise much-needed funds for the Museum. For more information contact Melanie Flack at (315) 393-2425.