Bust of Frederic Remington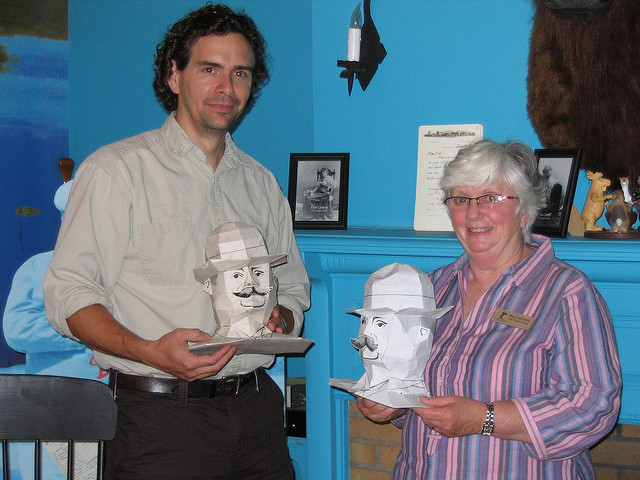 Welcome to 'Can You Build Fred's Head?', a bust of Frederic Remington done by Potsdam, New York professor and artist Dr. Edd Schneider.
This bust is built out of ten sheets of standard sized paper, and the pattern can be made available by downloading the PDF document.
Building the bust is a challenge, so read the on-printout instructions carefully, and follow the steps in the tutorial. It will also be easier to build with higher quality paper or cardstock, but be careful what your printer can handle. Not all paper takes printer ink well, meaning more chance the ink will come off on sticky fingers.
This is a great rainy day project for a parent and kid 10 & up, and chance for kids to get hands on with math used in art. A couple warnings are in order too. First: it isn't easy. patience is required. Second, you will need some time, the whole project takes a couple hours.
Checklist:You will need a glue stick, scissor or other cutting implement, tape, and the printout [10 page less document, less than 1 megabyte].
Artist's Request:Please paint, draw, or otherwise decorate your head once it has been assembled, that's why it is left white! Then e-mail a picture to info@fredericremington.org.