Flatworks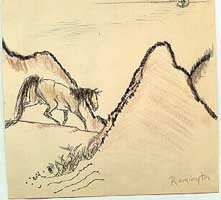 An attempt at a Remington theme.
Watercolors, Paintings and Drawings
Remington has been forged since the early 20th Century. His most famous forger was named Eugene Field, Jr., who copied in watercolor Remington illustrations from black and white books and magazines. He also made inscriptions in books, signing Frederic Remington's name. Field invented a "kicking horse" signature for his faux Remingtons. In each of Field's "Frederic Remington" signatures, he drew a horse leaping from the "F."
Since Remington's work was widely available in prints and illustrations as early as the 1880s, and was also highly valued and popular, there are many forged Remington oil paintings. Some are copies of prints in circulation, some are in Remington's style, but not copied from any particular work, and in some cases the only association they have is that Remington's name appears on their surface. There are fake Remington sketchbooks and drawings. These works are executed with a range of effectiveness, from the absurd to the highly plausible.
Prints
In every case, Remington prints are reproductions. The word "print" or "original print" generally refers to paper that has had a design imprinted on it by some inked medium, such as stone, wood or metal. The design is created by hand by the artist on the medium. The medium is then inked and transferred onto paper by running paper and the inked medium together through a press. Surprisingly, the true definition of the word "print" does not apply here. Collier's and the other publishers did not sell "prints." They sold reproductions of the original. If they were indeed original prints, the design would have been created on the printing medium (a wood block or metal plate) by Remington. Frederic Remington was not a printmaker. Instead, Remington's original was reproduced by staff at the publisher.
The Frederic Remington Art Museum get calls and emails every day from people who have bought or found a Remington print, usually one of the Collier's prints. The number of inquiries is a compelling indicator that, while we know they were printed in open editions, they must have sold very, very well.
By far, the Collier's prints are the most numerous Remington prints. They were offered in the magazine by mail order for about $1.00 each, and often re-printed in different sizes, also grouped in folios with titles such as "Remington's Four Best Paintings." Many were marketed as "Artist's Proofs," a term that suggests that there was something extra-special or limited about them. It suggests that these were prints pulled first from the press for Remington's approval. The "Artist's Proof" tags carried a simulated Remington signature, which still baffles optimistic flea-marketers today.
Bunch of Buckskins
In 1901 Remington worked with publisher Robert Howard Russell to produce a portfolio of 8 reproduction prints titles "A Bunch of Buckskins" and names some of denizens of Remington's West: Old Ramon, A Breed, A Sioux Chief, A Cheyenne Buck, An Army Packer, A Cavalry Officer, An Arizona Cowboy, and A Trapper.
The "Bunch of Buckskins" portfolio was reproduced in a slightly smaller size from a 1901 set in 1956 by a company called Penn Prints. Either way, the publisher's name is at the bottom of the print. The Penn Prints versions also have the title of the work at the bottom. Unframing should help you determine what you have. If you have the Russell version from 1901, they might be worth something. If they are the 1956 Penn Prints reprints, they are far less desirable. Either way, you should be able to find the publishers name along the bottom margin.
Remington - The Illustrator
Though he died at 48, Remington produced over 3,000 signed flat works. As an illustrator, Remington made thousands of artworks – often en grisaille (in black and white oil on canvas), ink wash, and gouache – that were reproduced with magazine and book text. It was the massive exposure in magazine pages that launched his fame.
In the mid-1880s, when Remington launched his career, magazines lacked the
technology to print photographic images with columns of text. Staff engravers needed to make printing blocks to join with blocks of text to print the magazines.
Illustrations and prints became an important part of Remington's fame and popularity with the American public. Throughout the 1890s, Remington was well known in American households as an illustrator of the Old West and military subjects. His interest in the details of his human and equine subjects conveyed authenticity, though he worked in his studios in the East. Aside from his year outside of Peabody, Kansas, he spent only about three years total on western trips. Remington collected thousands of photographs, both commercial photos and ones he took himself, as visual notes. He filled his New Rochelle, NY studio with Native American, cowboy, and military artifacts in great numbers. He filled sketchbooks wherever he went.