In two words, describe what Remington was trying to accomplish with this piece:
Charge of the Rough Riders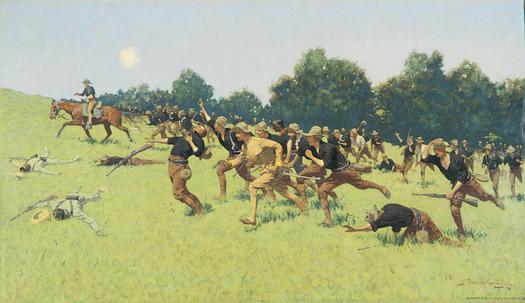 Ten years after he illustrated Theodore Roosevelt's articles on
ranching, Remington was called upon to depict Roosevelt and his "Rough
Riders" as they charged up a hill in Cuba during the Spanish American
War. Hired by the New York Journal as a special correspondent,
Remington took up the challenge of a wartime assignment thinking that
he would find war all that he had ever expected it to be - glorious,
heroic, and patriotic. Looking at this canvas, which shows Roosevelt
on horseback bravely advancing up the hill without the advantage of
cover and encouraging his men to do the same, we think that
Remington's expectations were filled, that the visions of war he had
built up from childhood as the son of a veteran had been witnessed
firsthand. But, we know from Remington's journal entries and from
letters that he wrote that observing war up close - with its waste,
destruction, and the enormous toll exacted from human bodies and
spirits - had a profound and sobering impact on Remington.

In the painting, there is a striking absence of blood, injury, and
carnage. If it weren't for the cannonball flying through the air and
a few felled bodies, this scene could be mistaken for a routine
military drill. The disillusionment about and abhorrence that
Remington felt toward war at this critical juncture in his life and
career did not seep through into his treatment of the subject. This
painting is still famous worldwide and, in some journalism textbooks,
is summoned forth from the pages of history for its links to the early
days of "yellow journalism."

Type comments below!