Beauty & Strength: The Life and Work of American Sculptor Sally James Farnham

Sally James Farnham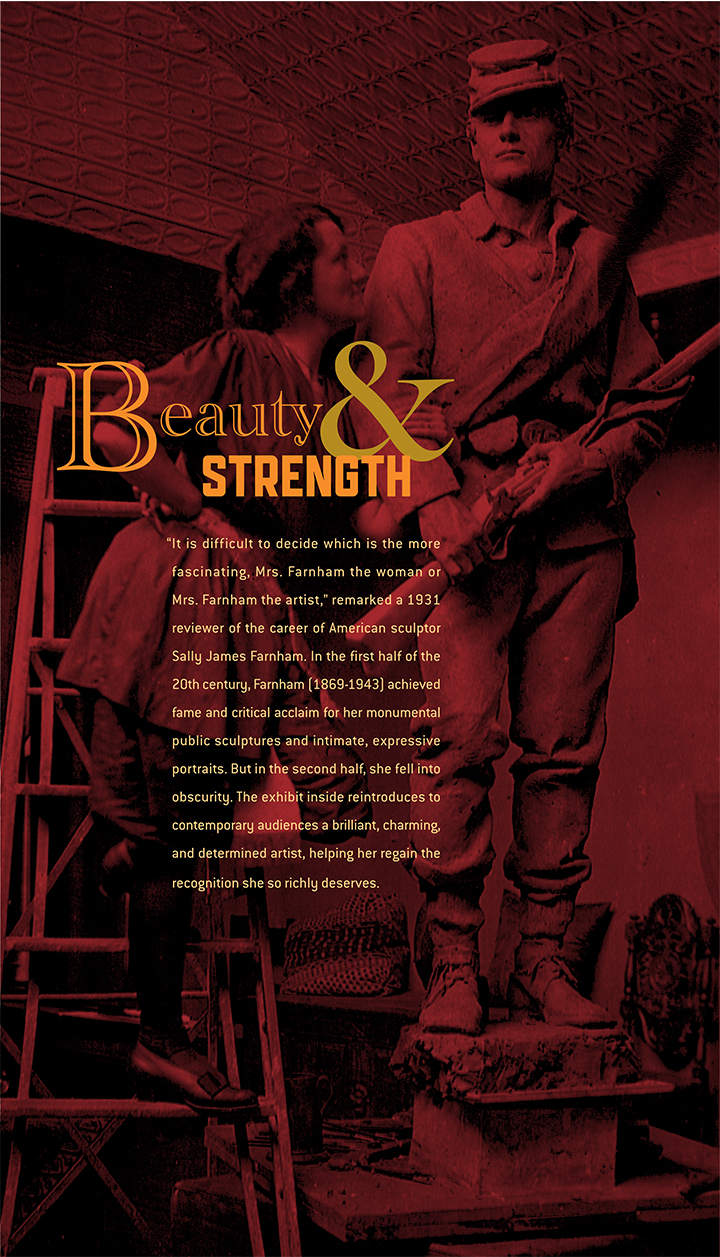 "It is difficult to decide which is the more fascinating, Mrs. Farnham the woman or Mrs. Farnham the artist" remarked a 1931 reviewer of the career of American sculptor Sally James Farnham. In the first half of the 20th century, Farnham (1869-1943) achieved fame and critical acclaim for her monumental public sculptures and intimate, expressive portraits. But in the second half, she fell into obscurity. The permanent exhibit reintroduces to contemporary audiences a brilliant, charming, and determined artist, helping her regain the recognition she so richly deserves.
Ogdensburg's other great sculptor
Like Frederic Remington, Farnham had childhood roots in Ogdensburg, and maintained ties to the area throughout her life. She was married at Ogdensburg's St. John's Episcopal Church. Her first major public sculpture commission was The Spirit of Liberty, a Civil War memorial located in Ogdensburg's Library Park across the street from the Museum. Her sister Lucia married prominent Ogdensburg doctor Grant C. Madill.
Although self-trained as an artist, Farnham sought the advice of established male sculptors, beginning with Frederic Remington. Farnham and Remington became cordial friends, corresponded about their sculptures, and admired one another's work. The two had many things in common, including North Country roots, fathers who were Civil War officers, and a love of horses and riding. When Remington died in 1909, his widow, Eva Remington, asked Farnham to oversee the production of Remington's final two sculptures, The Stampede and the remodeled, large-size Broncho Buster. Farnham's Cave Woman is a companion to and in conversation with Remington's Paleolithic Man, and several of her Western sculptures can be seen as homages to Remington's work.
This exhibit was generously funded by The Robert F. and Eleonora W. McCabe Foundation