Remington Museum Program Considers "Studies for Antoine's Campfire"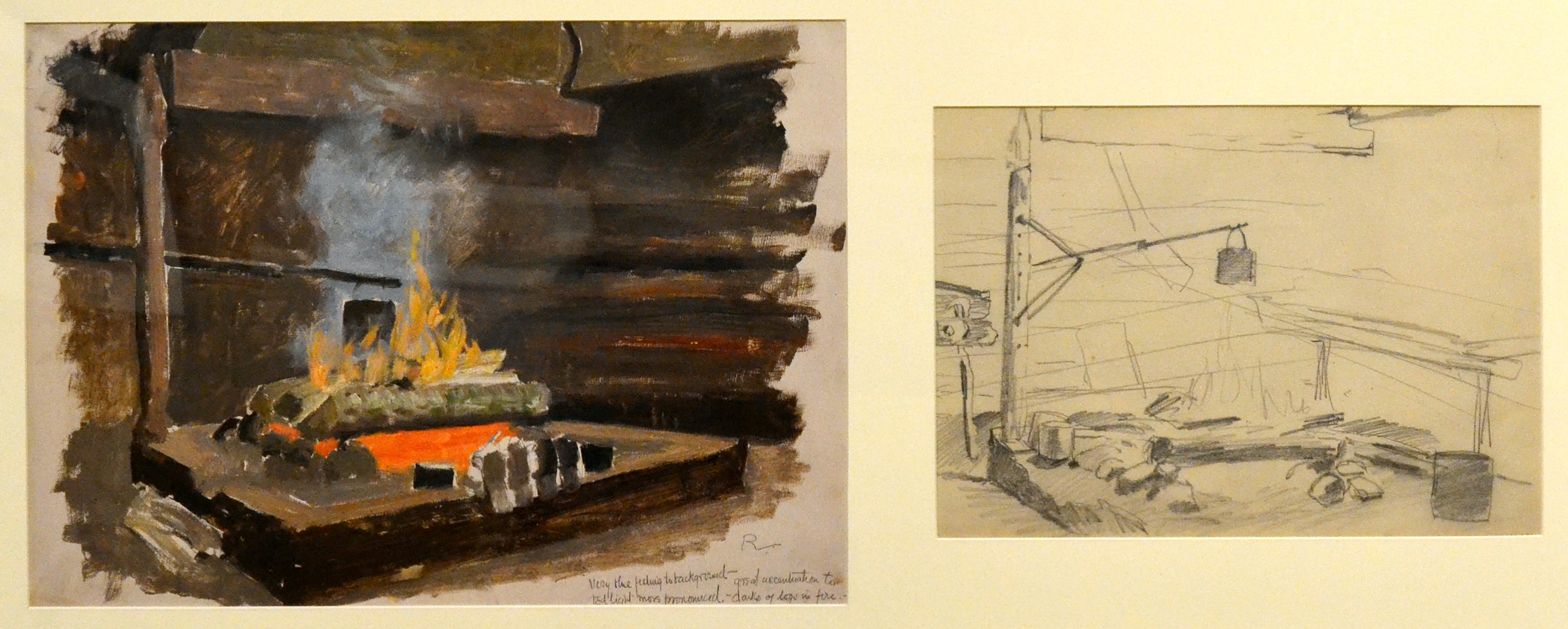 Pictured: Studies for Antoine's Campfire, 1890. Left: oil on paper, 14 x 19 ½", Gift of Emma Caten, Frederic Remington Art Museum 1966.271; Right: pencil on paper, 10 ¼ x 14 ¾", Gift of the Remington Estate, Frederic Remington Art Museum 1966.631. Participants in the Remington Museum's "Consider This" program will spend a half hour in small group conversation about this pair of artworks.
Ogdensburg, NY — The Frederic Remington Art Museum invites the public to participate in one of this month's "Consider This" programs. This ongoing program offers guided exploration of a single work of art on display at the Remington Museum. "Consider This" is for all ability levels, and no art background is required. Participants simply need an interest in joining the conversation. A different artwork is featured each month, with three program sessions to choose from in December.
Two sessions will be offered in an on-site/virtual hybrid format, in which participants can join the conversation remotely via Zoom or in person at the Museum. The other session will be offered only on-site at the Museum. Programs are offered at noon, so that even working people can join the conversation during their lunch and bring art into their workday. Participation via Zoom is free, and on-site participation is free with admission to the Museum.

In December, there will be three opportunities to spend quality time with Frederic Remington's 1889/1890 campfire studies—one in oil, one in pencil—for The Camp at Night. Each session features 30 minutes of focused looking, consideration, conversation, and interpretation of the artwork. For the hybrid sessions, Museum Curator & Educator Laura Desmond will broadcast from the Museum, and team up with a docent to facilitate discussion among participants. Active participation is strongly encouraged.

For the hybrid sessions, Desmond will pair up with Museum docent Christine LeBel on Wednesday, December 7 at noon, and with docent Kathy Crowe on Friday, December 16 at noon. Museum docent Luanne Herzog will facilitate a special on-site session at the Remington Museum during its annual Holiday Open House on Saturday, December 10 at noon. To learn more and to register, you can call 315-393-2425 or email. For ease of conversation, registration will be limited to eight participants. No registration is required for the Holiday Open House session on December 10.
The two Studies for Antoine's Campfire were preliminary to an illustration for the article "Antoine's Moose-Yard," which appeared in the October 1890 issue of Harper's Weekly, and was written by Remington's friend Julian Ralph.The article describes a moose hunting excursion made by the two men into the snowy wilderness of western Quebec. The pair of studies, framed together, are part of the exhibition "Remington's Mark," that looks for evidence of the artist's hand through attention to his mark-making with pencil, pen, brush, and sculptor's tools. The paired Studies for Antoine's Campfire illuminate Remington's artistic process, revealing how different mediums and techniques allowed the artist to explore and express varied aspects of his subject matter.