Remington Museum Offers Webinar on Artist Sally James Farnham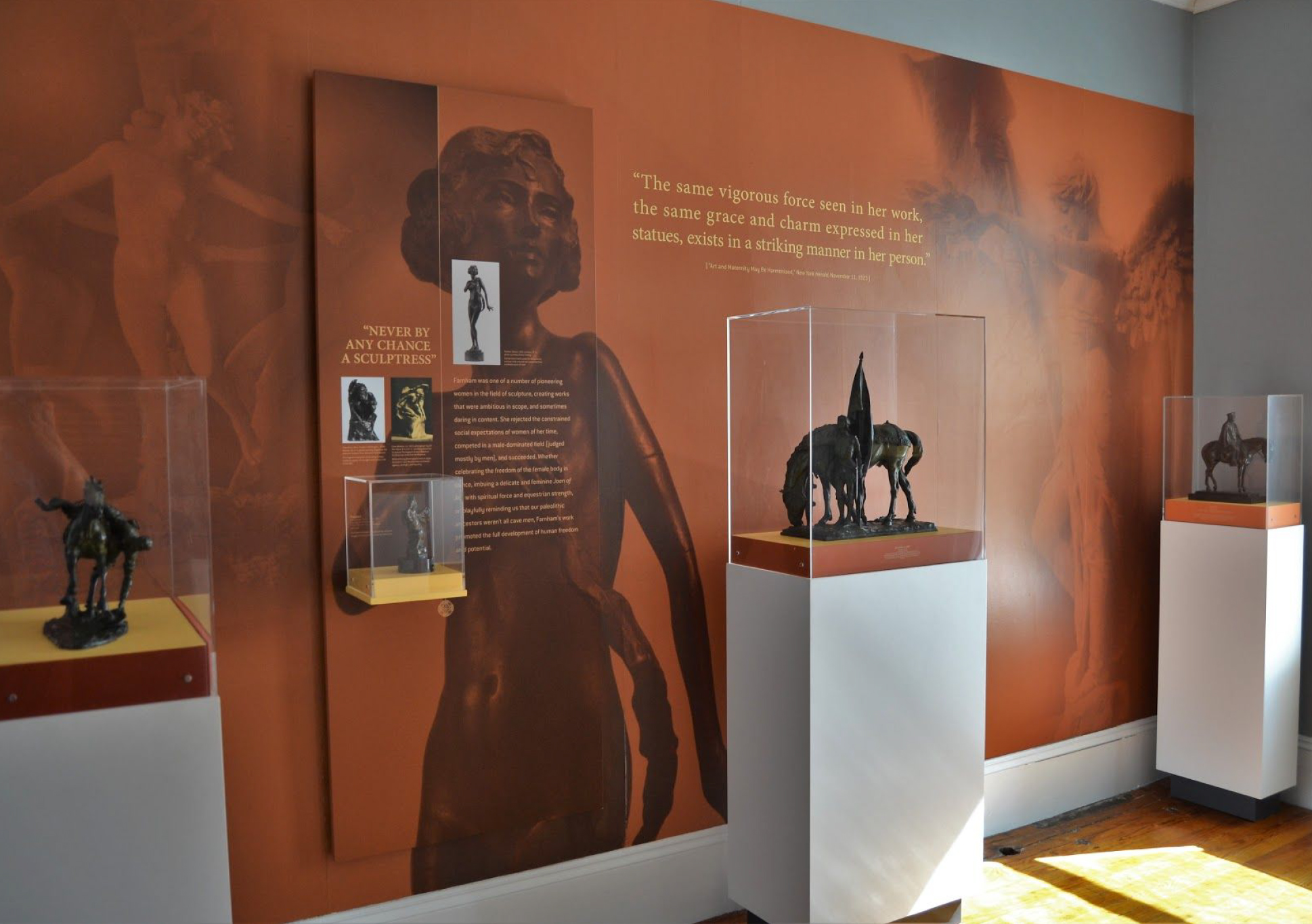 Pictured: A display in the Frederic Remington Art Museum's new, permanent exhibition dedicated to American sculptor Sally James Farnham. Farnham will be the subject of a free, nine-part webinar series offered by the Remington Museum starting on March 30. Remington Museum Offers Webinar on Artist Sally James Farnham
Ogdensburg, NY — The Frederic Remington Art Museum will offer a nine-part webinar series in conjunction with its new, permanent exhibition, "Beauty & Strength: The Life and Work of American Sculptor Sally James Farnham." The webinar series explores Farnham's life, artwork, and artistic career. The nine sessions will take place on the last Tuesday of each month at noon, and are free and open to the public.
Last Fall, the Remington Museum, with generous funding by The Robert F. and Eleanora W. McCabe Foundation, completed a new, permanent exhibit dedicated to the life and work of American sculptor Sally James Farnham. Because the coronavirus pandemic has delayed plans for a celebratory opening reception, and kept many visitors at home, the Museum will offer a live webinar to explore the exhibit from afar. The nine-part series, presented by Museum Curator & Educator Laura Desmond via Zoom, will introduce Farnham and her work, and explore the themes presented in the exhibit. Participants can sign up for the entire series, or just for single sessions.
"With this much-anticipated exhibition, Sally James Farnham now has the showcase she so richly deserves," says Museum Curator and Educator Laura Desmond. "Visitors to the exhibit—and participants in this webinar series—can explore numerous aspects of the life and career of this important and fascinating artist, including her North Country roots, her relationship with Frederic Remington, her pioneering work as a female sculptor, her sensitive portraits and powerful monuments, her commitment to the Pan American cause, and so much more. We invite everyone to get to know better the work of this outstanding American artist."
To see a complete schedule of topics and dates, and to register for the program, visit: https://zoom.us/meeting/register/tJYrf-iqqzIpG9ys2laCRj-50xwZFZJgMBEB
3/30: Beauty and Strength: An Overview of the Life and Career of Sally James Farnham — An introduction to the major themes presented in the new permanent exhibit, including the artworks on display and highlights from the life and career of Sally James Farnham.


4/27: Hometown Ogdensburg — Delve into Farnham's North Country roots and her lifelong connections to Ogdensburg.