2020 College Student Juried Art Exhibit at Remington Museum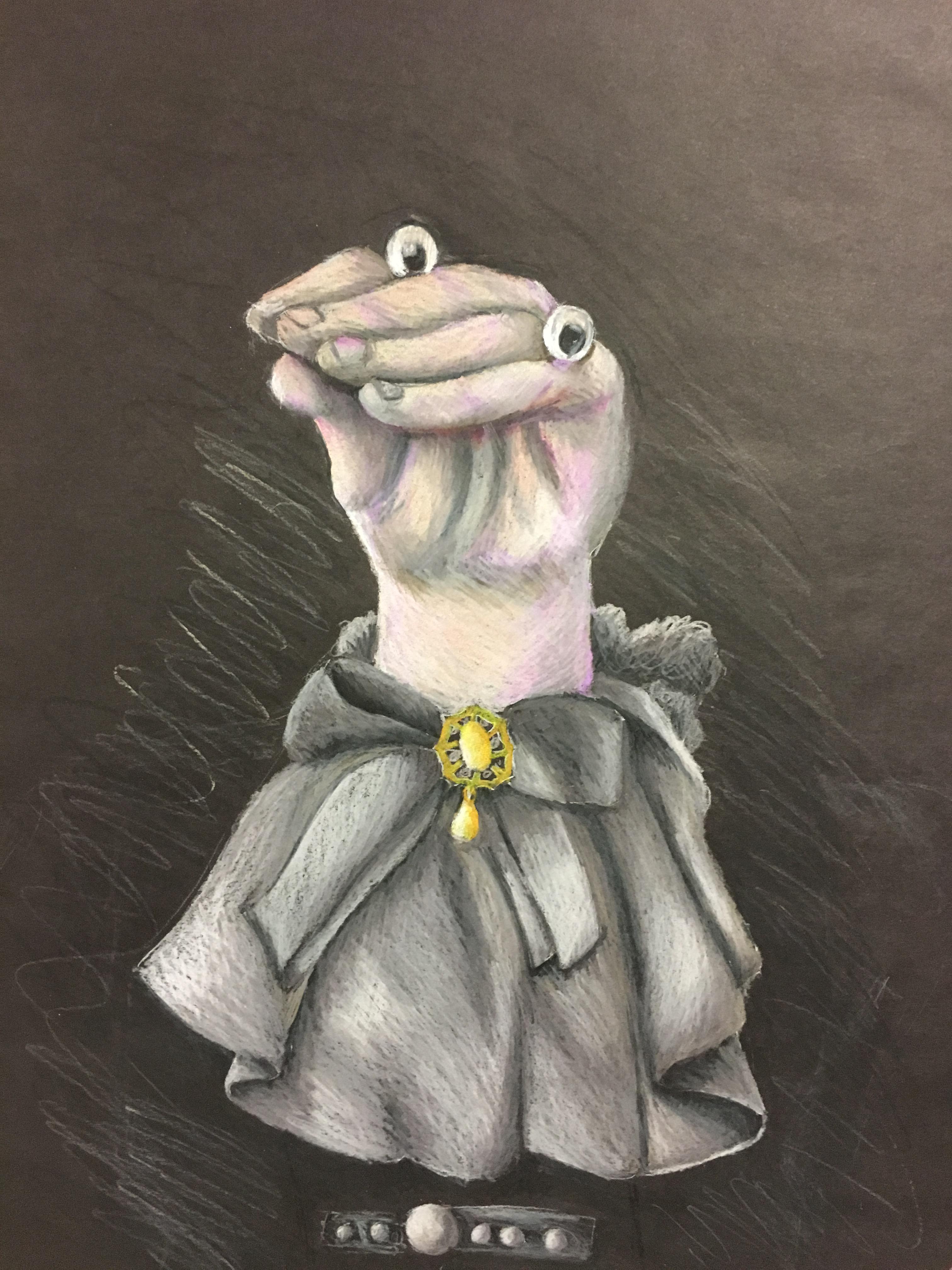 Pictured: Self Portrait, Kelsey Rambach, 2020, colored pencil, 20 x 16", SUNY Plattsburgh. Rambach's drawing is one of 50 artworks included in the 2020 College Student Juried Art Exhibit opening on February 29 at the Frederic Remington Art Museum in Ogdensburg. College Student Juried Art Exhibit at Remington Museum.
OGDENSBURG, NY - The Frederic Remington Art Museum's 2020 College Student Juried Art Exhibition will open on Saturday, February 29, with a free public reception from 2 to 4 pm. The public is invited to come and meet the artists at the reception, see their excellent work, and have some fun at the Museum.
The College Student Juried Art Exhibit is open to students at four area colleges and universities: Clarkson University, St. Lawrence University, SUNY Plattsburgh, and SUNY Potsdam. For this year's exhibition, the Remington Museum received 74 images submitted by 30 artists. Juror Will Salisbury selected 50 works to be in the exhibition, including paintings, drawings, prints, photographs, sculptures, and digital and mixed media works.
"The College Student Juried Art Exhibit is proving to be an exciting addition to our annual cycle of exhibitions," says Museum Education Specialist Laura Desmond. "Nationally-recognized artist Will Salisbury selected a diverse grouping of artworks that showcase the excellent work being done in our regional college and university art departments. We're pleased to offer young artists the opportunity to experience the process of entering a juried show, and to see the work being done by their peers at other area colleges and universities. I think that visitors to the show will be impressed by the range and quality of the work included."
Juror Will Salisbury started work as a sculptor when he was a teenager, carving images of Ethiopian famine refugees in his family's cellar using plaster pillars. In the 1970s, while living in Big Sur, CA, he began carving in Utah sandstone, Kanab stone, and regional soapstone. He is fluent in many sculptural mediums including clay, ceramics, plaster, wood, wax, bronze, steel, stone, aluminum, copper, resins, and epoxies. His works range in style from figurative abstraction to figurative realism with a strong dose of social commentary delivered in satire. He has shown many works in NYC galleries, but his local fame is for creating the 3 Crows on Route 81 in Jefferson County. He has also received many regional commissions for public sculpture.
Many of the student works on display in the Remington exhibit will be for sale. One third of the proceeds benefits the Frederic Remington Art Museum, and two thirds go to the artists. The exhibit will have an online gallery at www.fredericremington.org.
The student artists in the exhibition are: Lindsey J. Baker, Mac Barnes, Amelia Busha, Nadirah N. Croft, Flannery Dillon, Ève Dubois, Liz Feeley, Kirsten Gehl, Rebecca Hasenauer, Nate R. Jeffery, Chloe Koegel, Jenna Koelling, Rickell Larose, Brian Menia, Emily Morton, Lynda Mussen, Kevin Marly Ocampo, Joerelyn Ollet, Jason Parent, Charlie Patterson, Annabella Pugliese, Kelsey Rambach, Jacob Schue, Erika Snyder, Alex Staley, Abigail Tessier, Maria Tibold, Chynna Rose Tomastyk, Mollie Ward, and Mim Weinkauf. The exhibition will be on display through Sunday, March 29, 2020. The next opportunity for artists to enter a juried exhibit at the Museum is in the spring, for the 2020 Members' Juried Art Exhibit. That exhibit is open to any member of the Museum; an artist who is not yet a Museum member may join when they enter their submissions.