Special Admission Offer for Two North Country Museums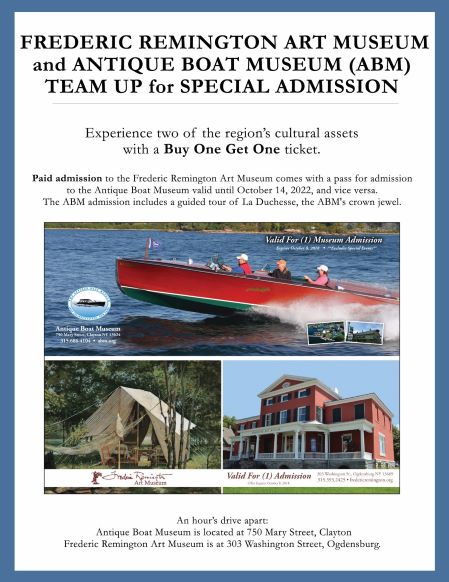 OGDENSBURG, NY - The Frederic Remington Art Museum in Ogdensburg, along with the Antique Boat Museum in Clayton will offer a joint partnership through October 14, 2022.

The Frederic Remington Art Museum and Antique Boat Museum have entered into a partnership for the summer season that provides visitors with the opportunity to experience two of the region's cultural assets at a discounted rate.

"I am very pleased that once again this summer season two of the North Country's most popular museums have agreed to offer free admission to visitors from the partner Museum. This arrangement, now several years old, benefits both institutions as well as visitors," remarks Douglas McDonald, interim Director of the Frederic Remington Art Museum.

Visitors have the option of purchasing a ticket at either location and visiting the other museum free of charge.

The Antique Boat Museum, located at 750 Mary St., Clayton, will close for the 2022 season on October 31, while the Frederic Remington Art Museum, located at 303 Washington St., is open year-round.