Remington Museum Program Considers "A Mining Town, Wyoming"
Pictured: A Mining Town, Wyoming,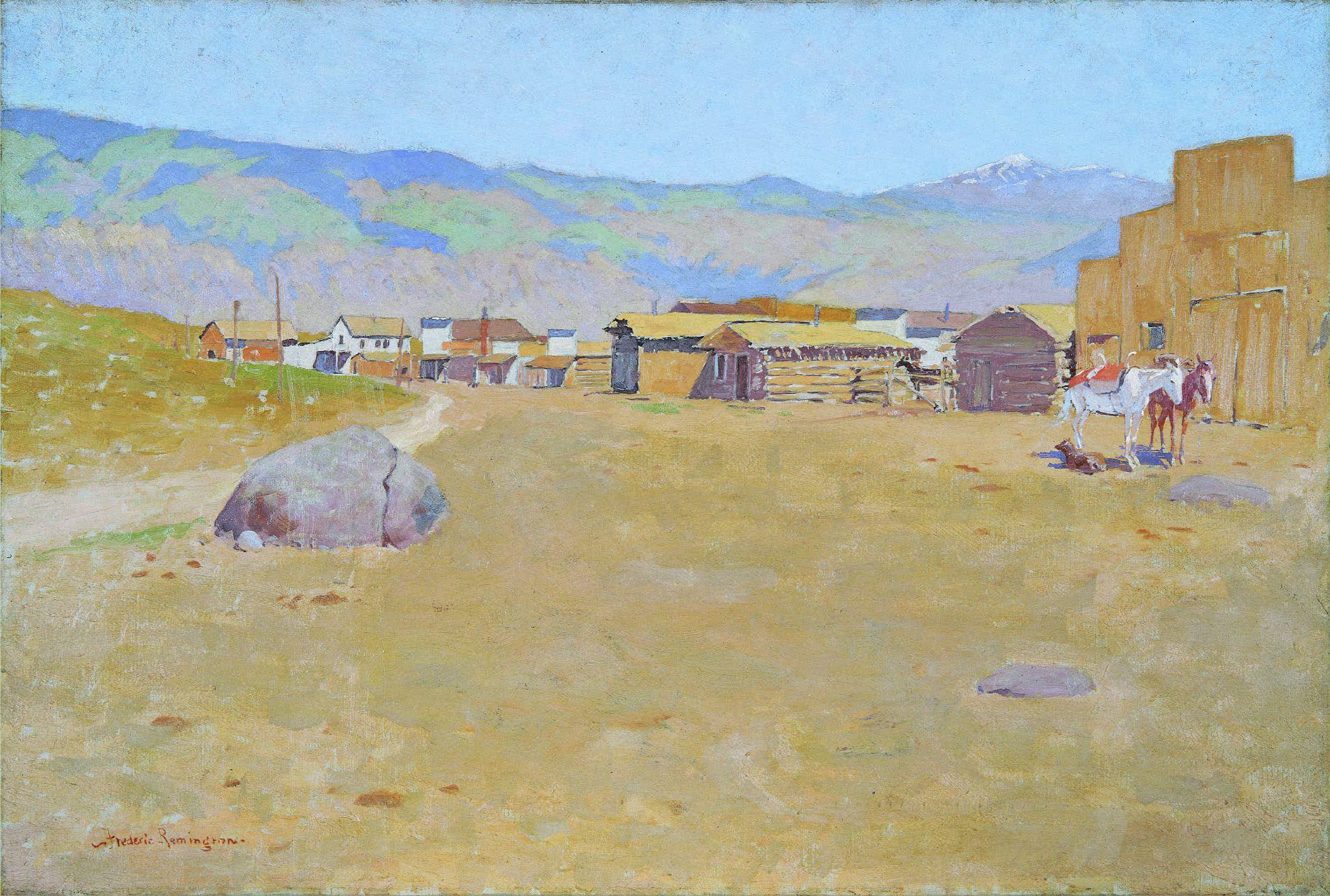 Frederic Remington, 1899 as Red Medicine, altered 1904, oil on canvas, 27 x 40", Gift of the Remington Estate, Frederic Remington Art Museum 1966.045. Participants in the Remington Museum's "Consider This" program will spend a half hour in small group conversation about this painting.
Ogdensburg, NY — The Frederic Remington Art Museum invites the public to participate in one of this month's "Consider This" programs. This ongoing program offers guided exploration of a single work of art on display at the Remington Museum. "Consider This" is for all ability levels, and no art background is required. Participants simply need an interest in joining the conversation. A different artwork is featured each month, with two program sessions to choose from.
One session will be offered only on-site at the Museum, with the other session offered in an on-site/virtual hybrid format, in which participants can join the conversation remotely via Zoom or in person at the Museum. Programs are offered at noon, so even working people can join the conversation during their lunch and bring art into their workday. Participation via Zoom is free, and on-site participation is free with admission to the Museum.
In December, there will be two opportunities to spend quality time with Frederic Remington's oil painting, A Mining Town, Wyoming. Each session features 30 minutes of focused looking, consideration, conversation, and interpretation of the artwork. For the hybrid session, Museum Curator & Educator Laura Desmond will broadcast from the Museum gallery, and team up with a docent to facilitate discussion among participants. Active participation is strongly encouraged.
Museum docent Luanne Herzog will facilitate an on-site conversation at the Remington Museum on Friday, December 10 at noon. For the hybrid session, Desmond will pair up with Museum docent Kathy Crowe on Friday, December 17 at noon. To learn more and to register, you can call 315-393-2425 or email desmond@fredericremington.org. For ease of conversation, registration will be limited to eight participants.
A Mining Town, Wyoming did not always look the way it does today, having been altered by Remington sometime between 1899 and 1904. The 1899 version, published as Red Medicine, featured a stereotyped indigenous man and woman in the foreground; Remington painted over these figures to create the painting as it exists today.
The oil painting is included in the exhibit, "Art Teachers' Choice," currently on display in the Museum's Addie P. Newell Gallery. The exhibition was guest curated by members of the North Country Art Teachers Association. A Mining Town, Wyoming was selected by Raymond Whalen of Parishville-Hopkinton Central Schools, who said of the work, "This painting has a real sense of space, distance, and time. You can get a feel for the landscape and the simplicity of the architecture. I would want students to see how space is used and how effective color can be without being bold and electric, and to notice how Remington really captured the light and feeling of the place."