Oil Painting Class at Remington Museum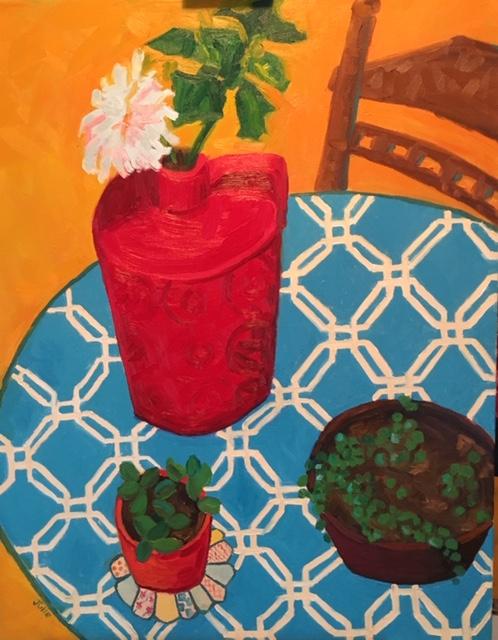 Pictured: Succulents on a Blue Tablecloth, 2019, oil on canvas, 48 x 28", by local artist Julie Pratt. Pratt will teach an oil painting class on February 27 at the Eva Caten Remington Education Center in Ogdensburg.
Ogdensburg, NY — The Frederic Remington Art Museum continues its series of adult art classes with an oil painting class on Thursday, February 27, from 1 pm to 4 pm. Local artist Julie Pratt will teach the foundation skills of painting with oil, with a focus on four main skills: composition, shading, color mixing, and application of paint.
Participants in the class will be painting from life, using a still life as a guide. Learning about highlights and shadows, noticing the positive and negative space between objects, and creating an interesting composition are all important skills that can be learned from painting from life.
Pratt will introduce a series of exercises to create a better understanding of the oil paint medium, and the foundation skills that will help students to progress further in their painting. This class is excellent for those who have already worked in oil paint and desire a fuller understanding of the medium or for those who have never used it before.
The class will be taught at the Eva Caten Remington Education Center, 323 Washington Street, Ogdensburg. All skill levels are welcome, and materials will be provided, though artists are welcome to bring their own materials if they prefer. The cost of the class is $15 for members of the Remington Museum and $25 for non-members. The class is limited to 12 participants. Call 315-393-2425 or email desmond@fredericremington.org to ask questions or sign up, or visit fredericremington.org to register online.