New Easels Enhance Arts Education at Remington Museum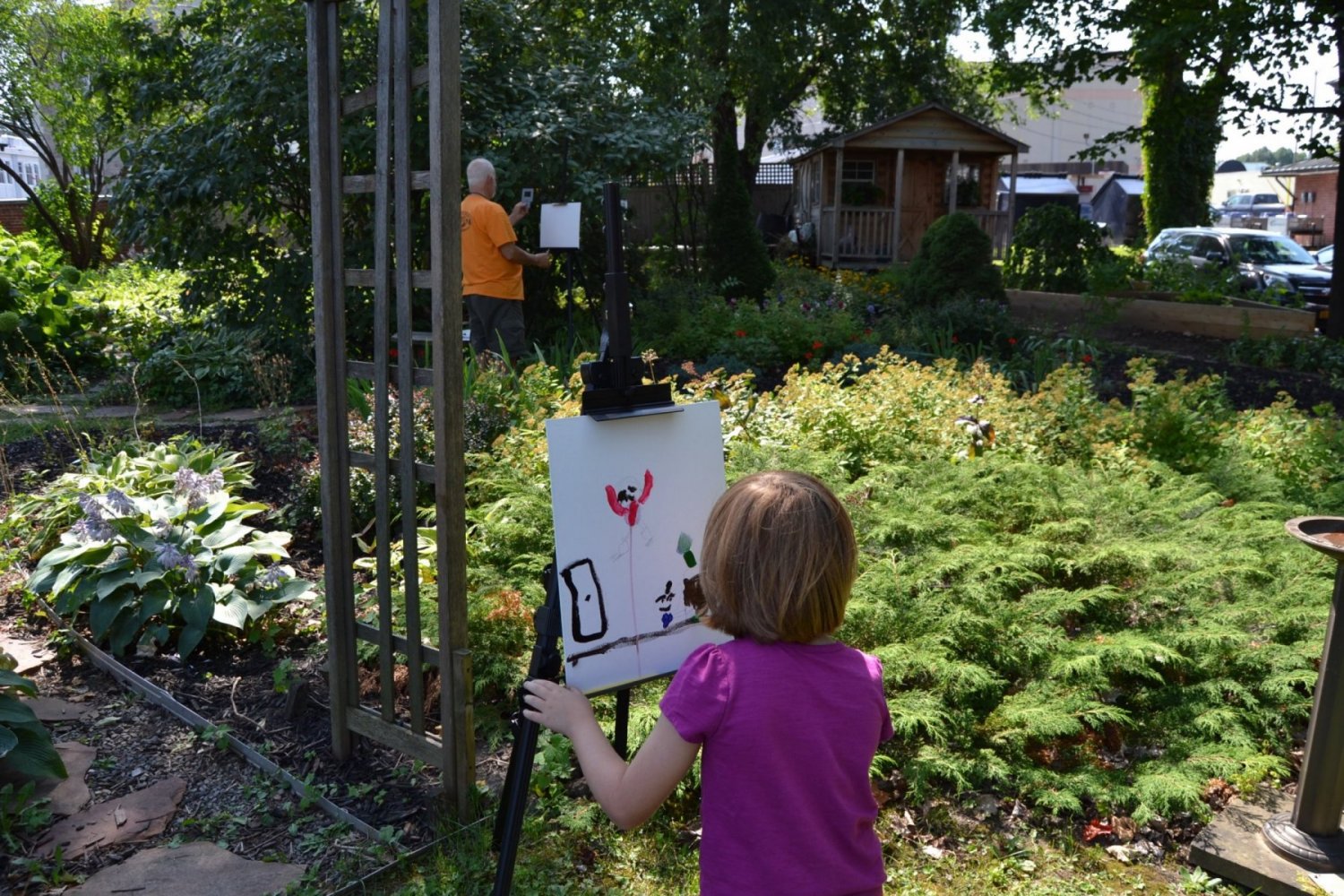 Two participants in a summer family arts program at the Frederic Remington Art Museum in Ogdensburg use new easels to paint en plein air in the learning garden at the Eva Caten Remington Education Center. Purchase of the easels was made possible by a grant from the Youth Philanthropy Council of the Northern New York Community Foundation.
Ogdensburg, NY — Participants in educational programs at the Frederic Remington Art Museum now have the opportunity to use high-quality, full-sized easels for a range of art-making activities. The easels were purchased with grant funding from the Youth Philanthropy Council of the Northern New York Community Fund.

Throughout the year, the Remington Museum offers a range of hands-on art-making experiences for children, teens, families, and adults in the North Country. The easels are an important addition to the Museum's growing stock of quality art supplies available for use by participants in its various art clubs, art classes, and other educational programs.
Museum Education Specialist Laura Desmond says that starting in 2017, the Museum began to strategically invest in the purchase of quality art supplies for use in art education. The classroom in the Museum's Eva Caten Remington Education Center is now stocked with supplies such as papers and canvas board, watercolor, oil, and acrylic paints and paintbrushes, pastels, graphite and colored pencils, charcoals, and markers.
But until the grant awarded by the Youth Philanthropy Council, the Museum had only small, tabletop easels for use in painting, making it impossible to create anything but the smallest of paintings, and only indoors on a tabletop. The Remington Museum wanted artists young and old to be able to experiment with creating larger works of art and to be able to work outdoors. Desmond noted, "Our region has not only a beautiful natural environment, but also a strong tradition of plein air painting, i.e. painting outdoors. Time spent out-of-doors is beneficial to all, and we are particularly eager to encourage outdoor art-making among children and youth. We knew that larger, easily transportable easels were needed, and so hoped to find a funder to enable us to provide them to our audiences."
After submitting a grant proposal, Desmond presented the Museum's request to members of the Youth Philanthropy Council in May. "I was so impressed by the depth of consideration and dedication of the Council members. They asked informed, careful, and thoughtful questions that showed real concern for the needs and interests of North Country communities. It was a real pleasure to talk with them."
"We are deeply grateful to the Youth Philanthropy Council for enabling us to enhance art-making opportunities for the children, teens, adults, and families served by the Remington Museum, and to the Northern New York Community Foundation for its efforts to inspire leadership, civic pride, and the spirit of philanthropy in the next generation through the Youth Philanthropy Council."
The new easels were purchased in August, and have already seen use in many educational programs at the Museum, including a series of family art programs in August, a number of painting and drawing classes for teens and adults, a twice-a-week painting and drawing circle for adults, and weekly after-school art clubs for youth. Desmond anticipates that they will be used also in the Museum's monthly classes for homeschooled children, during the Museum's participation in the annual Morristown Plein Air Festival, by members of the Ogdensburg Youth Garden Club, and in outreach to area schools.