July "One Hour One Work" Programs at Remington Museum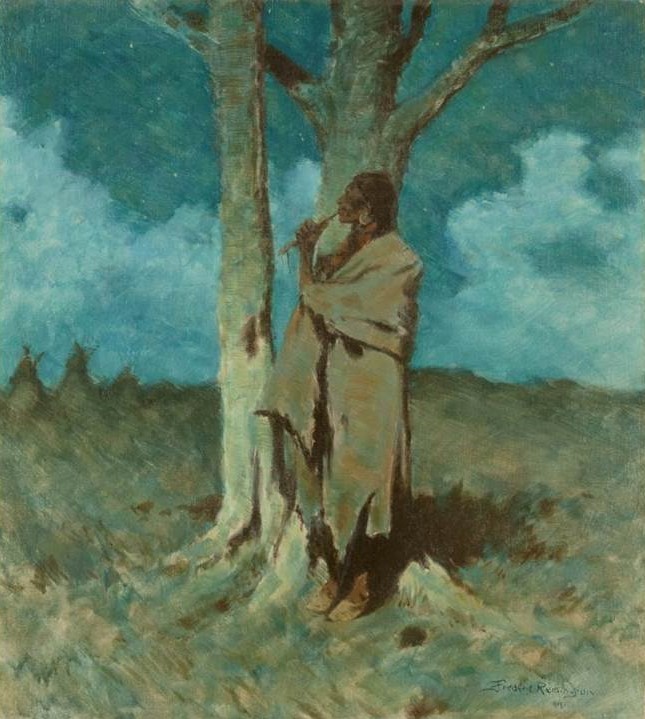 The Love Call, Frederic Remington, 1909, oil on canvas, 31 x 28 inches, on loan to the Frederic Remington Art Museum in Ogdensburg from the Sid Richardson Museum, Fort Worth, TX. Participants in the Remington Museum's One Hour One Work program will spend an hour contemplating and discussing this beautiful nocturne painting.
Ogdensburg, NY — The Frederic Remington Art Museum invites the public to attend any of four "One Hour One Work" sessions in the month of July. This ongoing program is a chance for participants to slow down and dive deep into a single work of art on display at the Remington Museum. In July, there will be four small-group opportunities to spend quality time with The Love Call, which will be on loan to the Remington Museum from the Sid Richardson Museum in Fort Worth, TX. In each session, a Museum educator facilitates 60 minutes of focused looking, consideration, conversation, and interpretation of a single artwork. Four sessions are offered each month, with a different artwork featured each month.
In July, the featured artwork will be Frederic Remington's 1909 oil painting The Love Call. The program will be offered on the following dates and times: Wednesday, July 10 at 1:00 pm; Tuesday, July 16 at 10:00 am; Thursday, July 18 at 6:00 pm; and Monday, July 22 at 1:00 pm. The conversations will be facilitated by Museum educators Kathie Wade, Linda Richardson, Kathy Crowe, and Luanne Herzog, respectively.
The program is free with admission to the Museum, but reservations are requested, in order to facilitate close looking and ease of conversation.To learn more and register, visit fredericremington.org, call 315-393-2425, or email desmond@fredericremington.org.
The Frederic Remington Art Museum is located at 303 Washington Street, Ogdensburg, NY 13669. The Frederic Remington Art Museum expands and deepens appreciation and understanding of Remington's work by engaging contemporary audiences and keeping his legacy relevant. It is dedicated to collecting, exhibiting, preserving and interpreting the art and archives of Frederic Remington, and contains an unmatched collection of his works. The Museum is open May 16 through October 14, Monday through Saturday, 10 am to 5 pm and Sunday, 1 to 5 pm, and October 15 through May 15, Wednesday through Saturday, 11 am to 5 pm and Sunday, 1 to 5 pm.
xxxxxxxxxxxxxxx