Holiday Open House at Remington Museum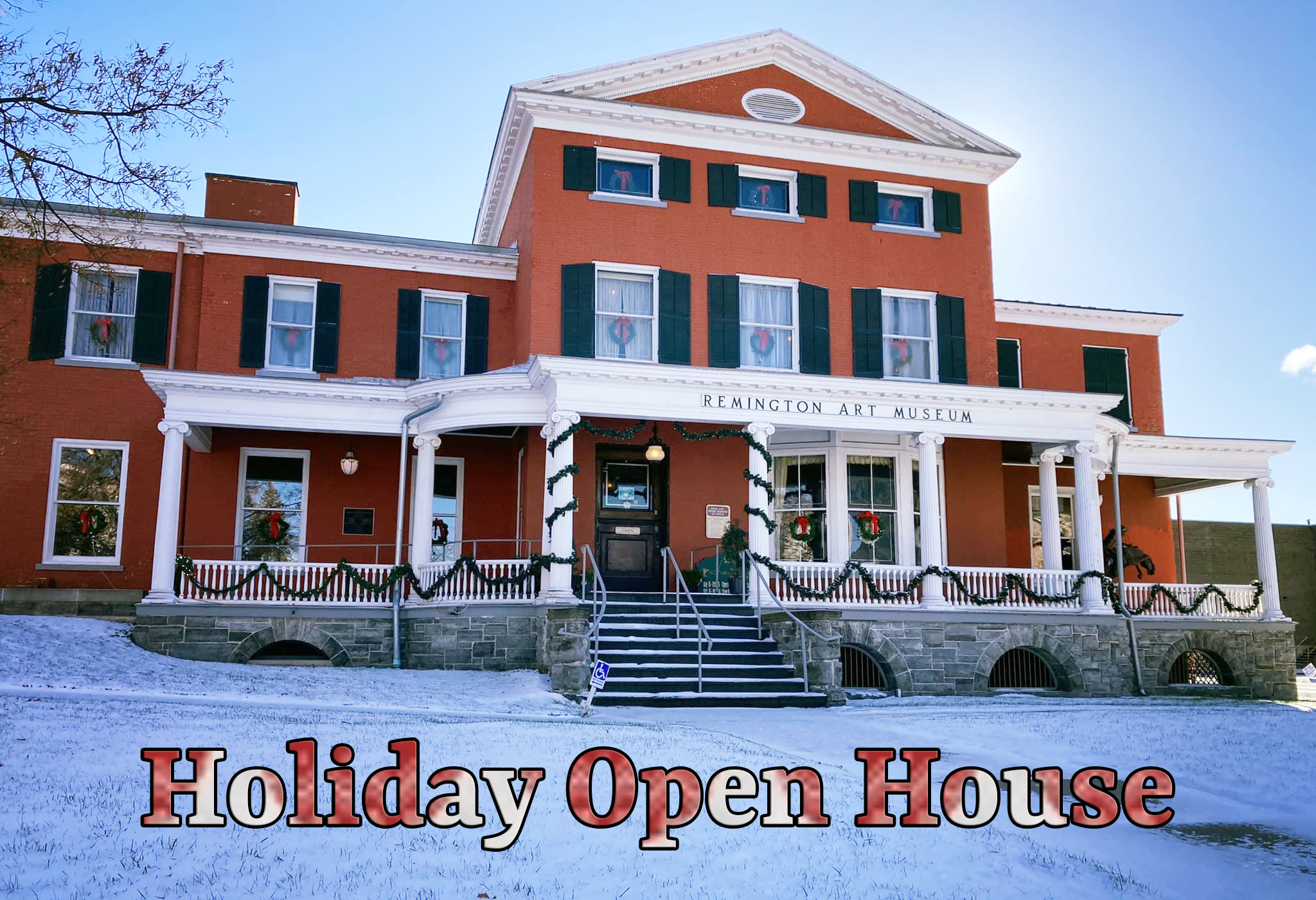 OGDENSBURG, NY - The Frederic Remington Art Museum invites the public to its Holiday Open House on Saturday, December 10th from 11am-5pm. Admission is free.
This is a wonderful time of year to visit the nearly 100 year-old Museum and enjoy the holiday ambiance of an important part of Ogdensburg and the North Country's history and holiday tradition. Stop in and enjoy the festive decorations, exhibits, gallery program, holiday music, local vendors, and discounts in the Museum Shop.

North Country Connections Orchestra will be performing live in the Museum's Tiffany Room from 1pm-3pm. The orchestra is a combined group of multi-age and multi-level performers from various towns throughout St. Lawrence County. They will be performing well-known Christmas carols, and at the conclusion will invite community members to join a Christmas Carol Sing-A-Long with Orchestra Director, Lorie Gruneisen on the piano. Words sheets will be available.
The Museum will be lining the halls with local vendors including Coyote Moon Vineyards, River Rat Designs, Not Your Average Cookie, J. Hackett Cliff & Co. Jelly and Jam, Attagirl Soap, Tom's Got Wood, Newcombe's Maple Ridge, Old Saratoga Spice Rubs, River Marie Design, Flambō Candle Company, Paintings by Carol Backus and Art By Maria. Other local products carried in the Museum Shop include River House soap, notecards by Pat Harrington, Chippewa Creek Farm maple syrup and Eye Candy Jewelry.
Local author Barbara Briggs Ward will have signed copies of her books available including her new book,
Velvet Snowflakes
. Ogdensburg native and author, Shari T. Mitchell has signed copies of her Marnie Reilly mysteries,
Divine Guidance
and the sequel,
Torn Veil
, available in the Museum Shop. Books are always a great gift idea.
The Museum Shop carries unique gifts including framed prints, books, and ornaments featuring the iconic
Broncho Buster
and more. In-store discounts will be offered on select items in celebration of the season.
The public is invited to attend our "Consider This" session occurring during the event at 12pm. This ongoing program offers guided exploration of a single work of art at the Remington Museum. This month's artwork is Frederic Remington's seasonally-appropriate 1890
Studies for Antoine's Campfire
. The session will take place in the Museum's Addie P. Newell Gallery, with docent Luanne Herzog guiding the discussion.
Visitors can also take a peek at the
2022 International Juried Art Exhibition
on view in the Museum's Richard E. Winter Gallery & Torrey Family Gallery. The exhibition, featuring work by artists living within a 100 mile radius of the Museum, is on display through Sunday, January 15, 2023. Many of the
works on display are for sale
with one third of the proceeds to benefit the Museum, and two thirds going to the artist.