Ogdensburg, NY — The Frederic Remington Art Museum invites the public to participate in one of this month's "Consider This" programs. This ongoing program offers guided exploration of a single work of art on display at the Remington Museum. "Consider This" is for all ability levels, and no art background is required. Participants simply need an interest in joining the conversation. A different artwork is featured each month, with two program sessions to choose from in July.
One session will be offered in an on-site/virtual hybrid format, in which participants can join the conversation remotely via Zoom or in person at the Museum. The other session will be offered only on-site at the Museum. Programs are offered at noon, so even working people can join the conversation during their lunch and bring art into their workday. Participation via Zoom is free, and on-site participation is free with admission to the Museum.

In July, there will be two opportunities to spend quality time with Frederic Remington's ca. 1894 ink wash and gouache drawing Then He Grunted, and Left the Room. Each session features 30 minutes of focused looking, consideration, conversation, and interpretation of the artwork. For the hybrid session, Museum Curator & Educator Laura Desmond will broadcast from the Museum gallery, and team up with a docent to facilitate discussion among participants. Active participation is strongly encouraged.

Museum docent Luanne Herzog will facilitate an on-site only conversation at the Remington Museum on Friday, July 1 at noon. For the hybrid session, Desmond will pair up with Museum docent Kathy Crowe on Wednesday, July 6 at noon. To learn more and to register, you can call 315-393-2425 or email info@fredericremington.org. For ease of conversation, registration will be limited to eight participants.

The featured ink wash and gouache drawing, illustrating a story by Owen Wister that appeared in the May 1894 issue of Harper's Monthly, is included in the exhibit, "Art Teachers' Choice," currently on display in the Museum's Addie P. Newell Gallery. The exhibition was guest curated by members of the North Country Art Teachers Association. Then He Grunted, and Left the Room was selected by art teacher Jen Impey of Edwards-Knox Central Schools. Impey said of the work, "I really like this work because I feel like it can lead to a great discussion with students about what is going on in it. Critique and discussion of art is something I struggle with in my classroom and I have done a lot of reading and research about Visual Thinking Strategies. This piece really stuck out to me, as though it has an interesting backstory and something the students could really discuss. I would hope students would notice the different textures, values, and line work used in it from a technical standpoint. In terms of the subject and what's going on, I would hope that they would dive into noticing the body postures of the different individuals."

Anyone who has not yet visited the "Art Teachers' Choice" exhibition is encouraged to do so soon. The exhibit will close on Sunday, July 10, in preparation for a new exhibition guest curated by Remington Museum artist-in-residence Yomarie Silva-O'Neal.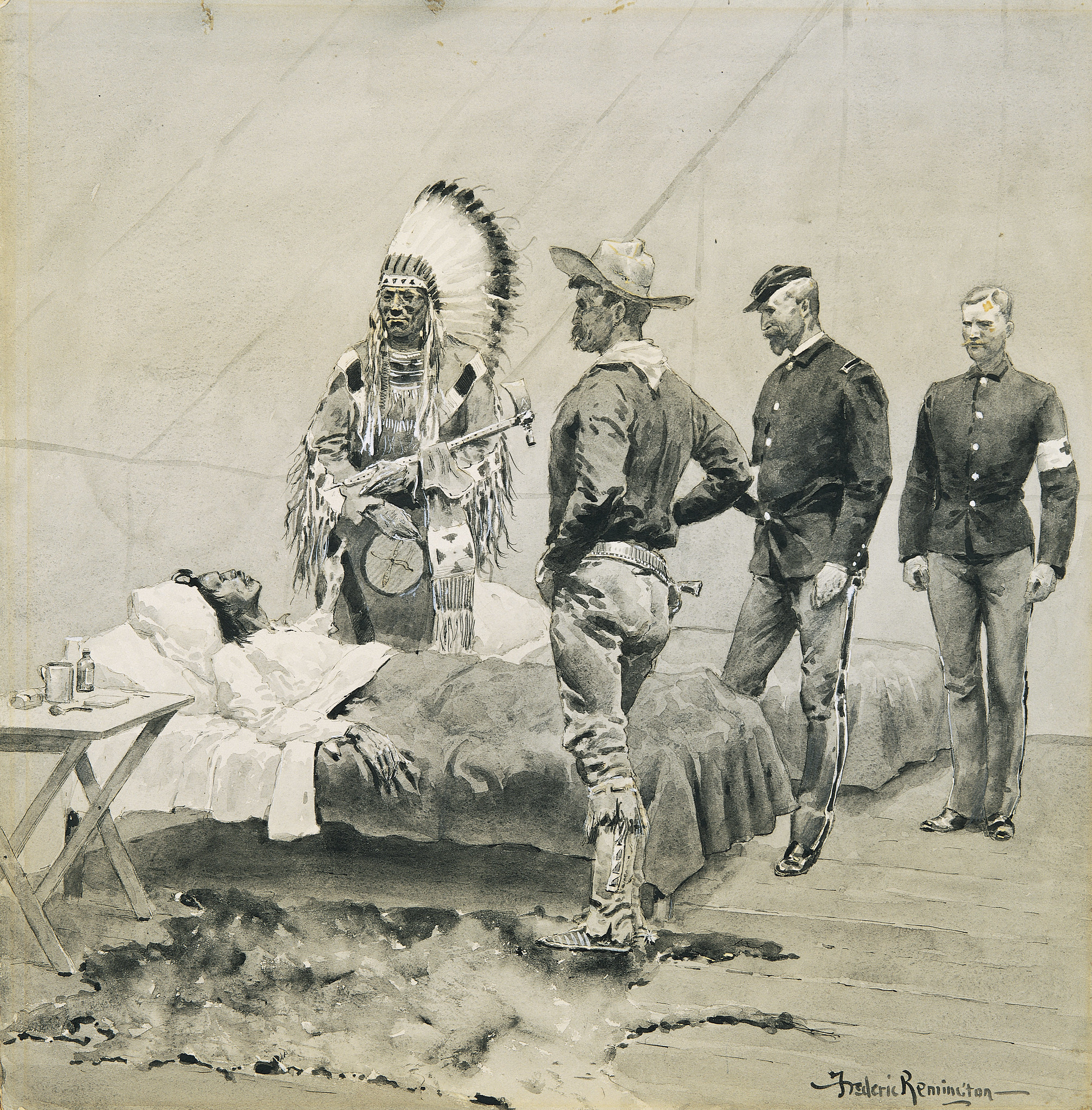 Pictured: Then He Grunted, and Left the Room, Frederic Remington, ca.1894, pen and ink wash and gouache on paper, 21 ½ x 21", Frederic Remington Art Museum 1966.063. Participants in the Remington Museum's "Consider This" program will spend a half hour in small group conversation about this painting.