Remington Unveils Recent Acquisition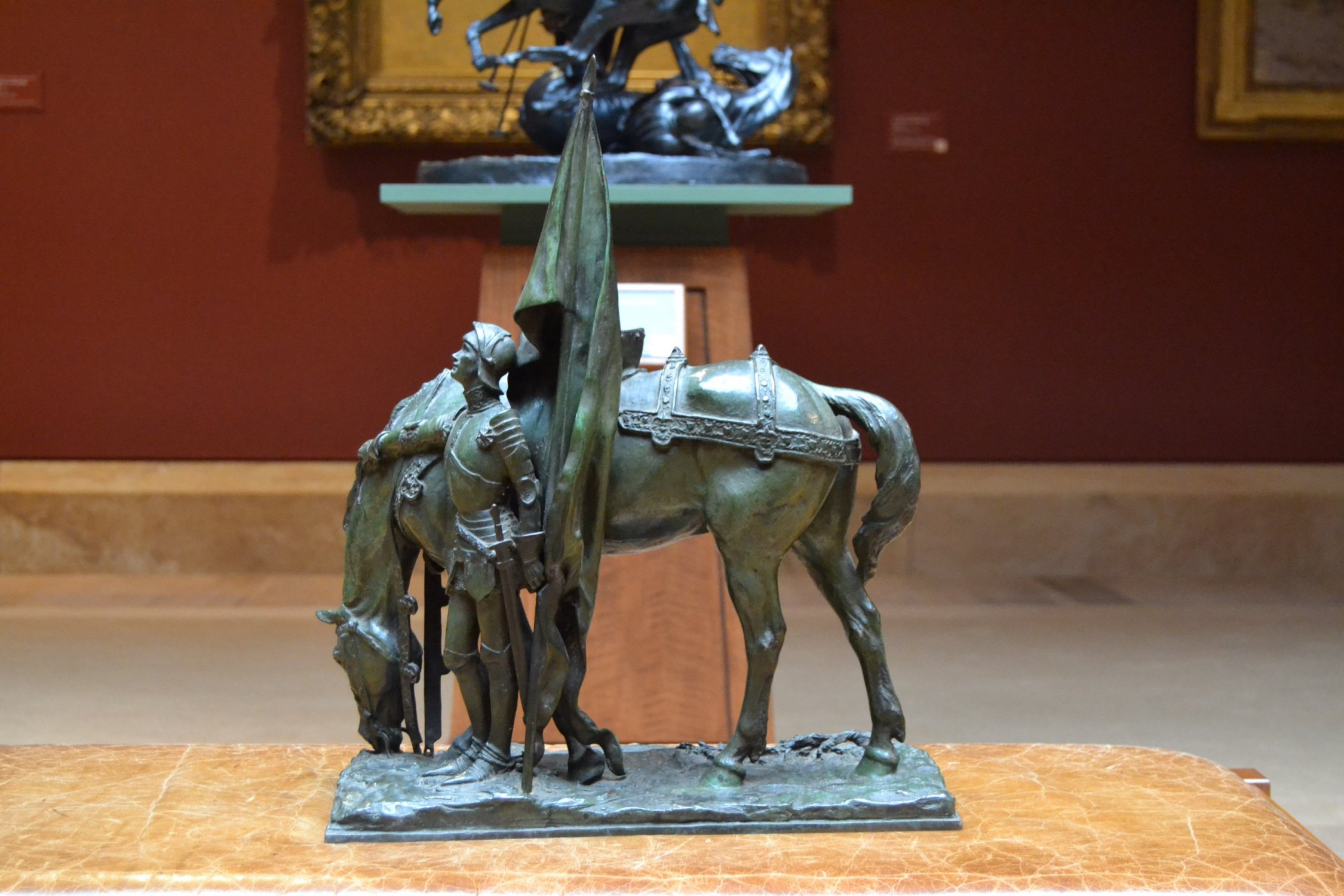 OGDENSBURG, NY - Today the Frederic Remington Art Museum unveiled its most recent acquisition, Joan of Arc, 1918 by Sally James Farnham.
Joan of Arc, 1918 was likely made for a competition for a Washington, DC monument to Joan of Arc. This insight is courtesy of Michael Reed, also from Ogdensburg. He runs the Sally James Farnham Catalogue Raisonne project and learned about Sally for the first time when he worked at the Remington as a summer job while in college.
Sally James Farnham (1869-1943) was from Ogdensburg, and was a gifted and successful sculptor. Excelling at portraiture, she executed many works of living people, including presidents Theodore Roosevelt and Warren Harding, violinist Jacha Heifetz and actress Lynn Fontanne. She also created portraits of her intimates, such as her friend Enos Booth and her sister Lucia Madill's grandchildren. All these works are already in the museum's collection. She also competed successfully for many evocative public monuments. The most famous is Simon Bolivar in New York's Central Park. She did many great funerary monuments. She was a very big deal in her day, and we hope to develop appreciation for her work, states director Laura Foster. In 2005 the museum published a monograph on her work, Sally James Farnham: The Art of Being an Artist, by Peter Hassrick. Buy the book
Farnham and Frederic Remington were artistic colleagues, casting at the same foundry, Roman Bronze Works, NY. She consulted him on the particulars for the civil war sentry in Ogdensburg's Spirit of Victory monument. Sally worked on Remington's sculptures in production after his death; the enlarged Broncho Buster and The Stampede. Thus, she had her part in the preservation of his legacy.
As the museum continues to develop a strategic plan, it is clear that the art of Sally James Farnham is an important component of the museum's collection and interpretive focus. This seemed like an ideal time to invest in another, rare work, bringing the collection to 13, the largest public collection of the artist's work. View more works by Farnham.
The museum's founding collection, the vast holdings of Remington's art and archives included a bronze by Sally James Farnham, Cowboy Fun. This work is exhibited in the museum's Newell Interpretive Corridor, and helps to tell Remington's story. This is one of several Farnham works that is in a way inspired by, if not a tribute to her friend and mentor. Farnham gave busts of President Warren G. Harding and Marshal Ferdinand Foch to the museum in its early years, the first additions to the collection formed from Eva Remington's founding bequest.
The museum won the sculpture at a Sotheby's auction on June 9th. Those who have generously funded this acquisition are: Jack and Jo Anne Backus, Mary and Carl Colton, Dr. Patricia Mahoney, JoAnn and Lowell McAllister, Robert and Ele​o​nora McCabe, Julie and Peter Huff, Dolly MacIntyre, Janet McFarland in memory of George McFarland, Tyler ​and Sara ​Mongerson, Allan P. Newell, Catherine Newell, and William Torrey.
The Frederic Remington Art Museum is located at 303 Washington Street, Ogdensburg, NY 13669. The Museum is dedicated to collecting, exhibiting, preserving and interpreting the art and archives of Frederic Remington, and contains an unmatched collection of his works. The Museum is open October 15 through May 15, Wednesday through Saturday, 11 am to 5 pm and Sunday, 1 to 5 pm and May 16 through October 14, Monday through Saturday, 10 am to 5 pm and Sunday, 1 to 5 pm.